At the age of 3,during vintage, and in spite of all dangers due to his very young age, he escaped from his mother and walked 1.5 miles in order to go the cellar where his grandfather and father were fermenting the new wines. Since then the interest and passion for wine hasn't stopped.
At school and university he decided to study economics and advertising while keeping the wine business as a hobby. No matter where he live : the north of France (launch of a wine club), the United Kingdom (launch of an organic and vegetarian wine importing company) or in Miami (French wine promotion board), he was always in contact with his passion : wine.
During his professonal life, he gave 3 years of his career in order to satisfy his second passion : car and motorcycle racing, but very soon he came back to the wine business.
In the beginning of the 90's he was involved with wines like Château Pape Clément or Château Talbot in Bordeaux where he worked for 4 years. This experience was critical in his approach to great wines tanks to the famous Bordeaus vintners he worked with.
In the mid 90's he went back to his roots : while being a Director at a large winery in the south of france renowned for the quality of its varietal wines, he thn preared the first blends to be bottled the family estate. The first bottle of wine under his family name was a 1995 wich today drinks exceptionally well.
Today The Humble Wiemaker manages 1200 acres of vineyards and two wineries . Because he strongly believes that the vineyards coefirst and it should be perfect in order to give the best possible grappes for the best possible wine.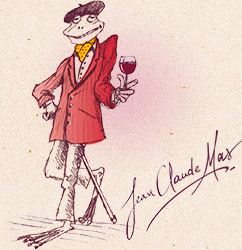 The winemaking philosophy rests on two assumptions :
– During fermentation, the cellar is the theatre of free expression of the grapes, it is when and where you have to mak sure that each grain delivers it best potential without any constaints.

– Once the wine elegance, harmony and uniquess, attributes that, as for the best couples, wile be exacerbated by maturation.